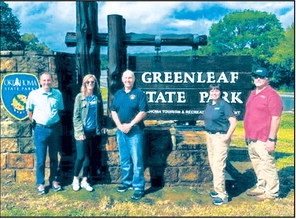 Senator makes visit to Greenleaf State Park
The Oklahoma Tourism and Recreation Department hosted Senator Dewayne Pemberton at Greenleaf State Park in northeast Oklahoma. Lawmakers were able to meet staff, learn more about the unique Oklahoma landscapes and features, the economic impact in local communities and the needs of each park in their district.
"I'm proud to represent the district home to Greenleaf State Park, an area that showcases the state's natural beauty with impressive hiking trails and a scenic lake," said State Senator Dewayne Pemberton. "Thanks to the Oklahoma Tourism and Recreation Department for inviting me to learn more about the impact of our state parks, particularly Greenleaf, in local communities across Oklahoma. I look forward to continued partnership to maintain these spaces and bolster the economic activity that they generate."
OTRD is conducting legislative tours in parks across the state to give lawmakers a firsthand look at what makes each park unique, and what the parks need to ensure they can continue to be premiere destinations for visitors from across Oklahoma and the country.
"We appreciate Senator Pemberton taking the time to tour Greenleaf State Park and learn more about how much this hidden gem means to the surrounding communities," said Shelley Zumwalt, executive director of the Oklahoma Tourism and Recreation Department. "We're looking forward to working with him in the coming years to ensure that Greenleaf is maintained and preserved for future generations to visit and enjoy."
Greenleaf State Park offers spectacular scenery and family-friendly adventures. The park features Greenleaf Lake alongside cabins, campgrounds, family recreation facilities and nature hiking trails. The 16 lakeside cabins and other facilities within the park were built in the 1930s by the Works Progress Administration. The original buildings, constructed of native stone, remain a lasting and beautiful tribute to those who built them, and are loved by many Oklahomans.
• Greenleaf hosted 98,178 out of the 11.5 million visitors to Oklahoma's state parks in
2021.
• Visitors to Greenleaf spent approximately $5.8 million in the northeast region in 2021, supporting 60 tourism industry jobs.
• In 2021, Greenleaf State Park generated approximately $249,000 in state taxes and $134,000 in local taxes for a total of $383,000.