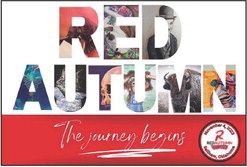 Red Autumn Arts Festival scheduled for November
The inaugural Red Autumn Arts Festival is set to take place on the first Saturday in November at Stage Park in downtown Sallisaw. This event is to be a regional celebration of arts and culture, attracting artists and vendors from Oklahoma, Arkansas, Missouri, and as far away as New York. This familyfriendly event aims to offer both locals and visitors an opportunity to immerse themselves in the local arts scene.
Lance Montgomery, the event organizer, envisions this festival as a way to showcase downtown Sallisaw as a friendly and welcoming place. Organizers encourage locals to stay updated by following the event on social media, sharing it with friends, and inviting out-of-towners to experience the diverse world of art, film, music, and dance.
The event boasts a lineup of impressive names, including comedian Shawna Blake, artist Amber Anderson, internationally recognized Latin dancer Aura Maurice-Figueroa, and New York City pop artist 'Ghost.' In total, the festival will feature more than three dozen artists.
To add an extra dimension to the experience, the Wheeler Event Center will feature the "Oklahoma Filmmaker Showcase" (presented by the Fort Smith International Film Festival). The showcase will feature films by Oklahoma directors.
Montgomery's overarching goal is to leave a lasting impression on attendees, making them think, "When I woke up this morning, I never imagined I would witness something as incredible as I did today." His aspiration is to introduce people to unconventional forms of art they might not have otherwise considered.
The Red Autumn Arts Festival kicks off at 9 a.m. on Saturday, Nov. 4, in downtown Sallisaw. Admission is free, and the event is open to the public. Artists and guests can take advantage of reduced rates at Cherokee Casino and Hotel in Roland by using the code "REDAUTUMN3" when booking.