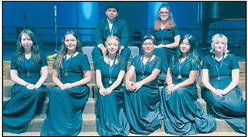 Vian Choir members compete
Vian Public Schools choir members competed at the Eastern District Regional Honor Choir on Sept. 16, in Muskogee. Students spent months preparing, attending choir camp at SNU, and underwent individual auditions at Muskogee High School.
The district regional concert was held at Christian Boulevard Church in Muskogee on Oct. 17. While there, students that were seniors that had made district regionals were recognized. Senior Raylee Fry was recognized for making it for three years. Senior Katie Moore was given special recognition and a medal for making district regionals for six years.
Zayley Cheater ranked number 2 for soprano 1 and Rayken Massey ranked number 3 for soprano 1. Anthony Ruda ranked number 3 for Tenor 1. Raylee Fry, Maya Silos, and Brooke Byers are ranked in the top 10.
"The students have been rehearsing since June and have worked so hard. They deserve this recognition for their hard work and dedication," Vian Choir Director Christina Herriman said.
The Vian Choir have upcoming performances that everyone is welcome to attend. The Veteran's Program is Nov. 10, at 9 a.m. and the Christmas Choral Concert is Dec. 12. Both events are in the cafetorium. They are free to the public and everyone is welcome to attend.