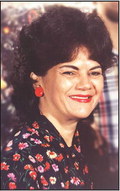 Obituaries
November 15, 2023
Evelyn Joyce Watts
Sept. 18, 1946 – Nov. 3, 2023
Muldrow – Graveside services for Evelyn Joyce Watts, 77, of Muldrow, were held at 10 a.m. on Wednesday, Nov. 8, 2023, at Upper Camp Creek Cemetery in Muldrow under the direction of Agent Mallory Martin Funeral Service, Inc.
Mrs. Watts was born on Sept. 18, 1946, in Muldrow to Gertrude Marie (Wheat) Watts and Raymond Jess Watts. She died on Friday, Nov. 3, 2023, in Poteau.
She was a homemaker, loved to garden, and was of the Baptist faith.
Survivors are one daughter, Kim Fiddelke and Ricky Birdtail of Marble City; one son, Shawn Fiddelke and Stacie of Muldrow; five grandchildren; one great-grandson; two sisters, Shirley Matlock of Sallisaw and Elizabeth "Sam" Scott of Tahlequah; one brother, Loy Watts of Muldrow; and other relatives and friends.
She was preceded in death by her parents; and two brothers, Watie and Harold Watts.
Pallbearers were Jeffery Fiddelke, Cody Mayfield, Ricky Birdtail, Sean Connelly, Scott Rogers and Alex Sevenstar.