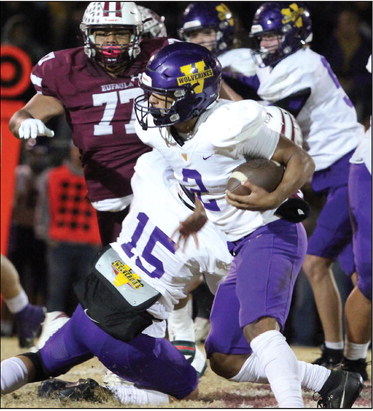 Vian Wolverines end two-game skid, win playoff opener rematch over Eufaula
Will travel to meet Adair next
EUFAULA — The Vian Wolverines accomplished two things in Friday night's Class 2A playoff openinground game at Eufaula's Paul Bell Stadium. They ended a two-game losing streak and advanced to the second round of postseason play.
The Wolverines, who defeated the Ironheads 35-27 in their home opener Sept. 1 at St. John Stadium, routed the Ironheads 33-14 in the rematch. The Wolverines (7-4) will travel to meet the Adair Warriors at 7 p.m. next Friday night in the second round of the Class 2A playoffs. The Warriors defeated Sperry 44-30 in their playoff opener Friday night at home.
The Ironheads end the season at 7-4.
The game started off just like the first game did with Vian marching downfield on the opening possession to take a 7-0 lead with Masyn Wright capping off the drive with a 2-yard touchdown and Mikayah Mendoza's extra point.
Eufaula would answer with a 9-yard touchdown pass to tie the game a 7-all.
Vian's offensive line frustrated the Ironheads' defense as the game went on. Vian receiver Nathan Creasey got behind the Eufaula defense and caught a long ball and bolted in from 44 yards out. After Mendoza hit the PAT, Vian had a 14-7 lead going into the halftime break.
Vian got the football first in the third quarter and made the most of it. The Wolverines marched downfield and capped a long drive with a 24yard run by Draighton Fletcher for a 20-7 Vian advantage.
Vian forced Eufaula to punt and scored again in the third quarter with a 33-yard touchdown pass to Nathan Creasey. Mendoza's extra point upped the Vian lead to 27-7.
Eufaula would answer the call as Maddox Bridges gave the home crowd something to cheer for as he took a kickoff 75 yards to the house to make the score 27-14.
The Wolverines would then drive down the field with a long,methodical drive that was capped off with Wright's 17-yard touchdown run for a 33-14 lead.
The Wolverines ran the football for a total of 202 yards while the Vian defense held Eufaula to just 60 yards of rushing offense.
Wright led Vian with 148 yards rushing on 32 carries with a pair of touchdowns. Wright also was 3-of-7 passing for 91 yards and two more TDs.