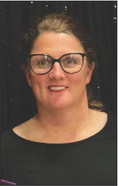 Sandlin says living in Vian 'is the best'
Tammy Sandlin, 50, a lifelong resident of Vian, said the greatest thing about Sequoyah County is living in Vian.
"Vian will always be my forever home. Had I not been here, I would not have met my best friend, soulmate and sidekick," Sandlin said.
After dating for three and a half years and graduating from Vian High School, Sandlin married her high school sweetheart, Randy.
"We've been married for 32 years now," she said. "We have two boys, Travis and Jake, and one daughter, Tressa, who will be a sophomore at Vian High School next year."
"Randy and I have been through so much together," she said. "Over the past 32 years we've had two house fires, losing everything we owned in the last one; and the death of both of Randy's parents."
Sandlin said during those times, she and her family had more love shown to them than she could ever imagine.
"The gratitude will never fade. I may have not sent out cards but our love and appreciation is, and will always be there," she said.
"The town of Vian is this way for every one in need, and this is why we love this community and why we raised our family here," she said. "Not to mention, our families lived here as well."
Tammy and Randy now have six grandchildren to keep them busy: Luke, Thomas, Charlie, Rachel, John Rylie, and TJ.
"Luke and Thomas are twins and will start first grade football this year. Charlee is in dance and gymnastics and will be in first grade. And Rachel, aka Reba or Hyde (depending on the day) will be going into the 4-year-old program," she said. "So look out Mrs. Moore, here she comes!"
Sandlin said John Riley and TJ are both under the age of one, so they stay at home with their moms, Megan and Kala.
Sandlin is also a nurse and an avid Oklahoma Sooners fan, who loves her cows and puppy. When she is able to help someone in need in her hometown, you will often find her selling raffle tickets, donating all the proceeds from an item back to the person in need.
"Yes, I do love sports!" she said. "And any sports my children, grandchildren, or anyone else I remotely know, participate in. I've been known to wake Randy up in the middle of the night yelling "touchdown" or "home run baby."" "I like to fish, too, but only when they are biting because if not, I don't have the patience," she said.
Sandlin said after surviving two house fires, she, Randy and Tressa are finally getting ready to move into their forever home.