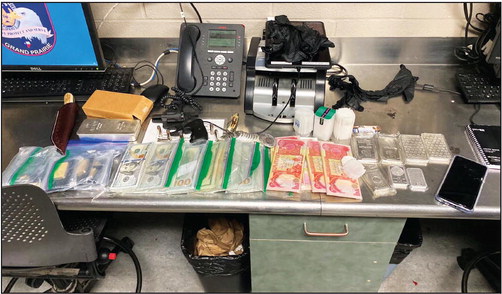 news, Public Records
July 19, 2023
Child sexual offender captured
Green to be extradited back to Sequoyah County
Sequoyah County Sheriff Larry Lane Jr. said Monday evening that a Texas man facing charges of lewd molestation and aggravated possession of child sexual material in Sequoyah County District Court has been captured.
According to court records, an arrest warrant was filed for Michael Green's arrest last month after charges were filed against him on June 13. Associate District Judge Kyle Waters ordered the defendant to be held without bond.
Lane said Sequoyah County investigators Cindy Smith and Dwayne Frizzell teamed up for an in-depth investigation against Green, 63, of Irving, after it was reported he had allegedly molested his 9-year-old granddaughter while staying with family in Sequoyah County.
Frizzell reported on June 5 he received Green's Samsung Galaxy S10e smartphone at the sheriff 's department after Green was reportedly arrested in Irving on an arrest warrant out of Sequoyah County.
Smith spoke with a detective from the Irving Police Department and requested the phone be sent to the Sequoyah County Sheriff 's Department for further investigation regarding allegations of Green possessing child pornography. Frizzell then requested a search warrant for the phone based off Smith's probable cause affidavit.
Smith reported in the affidavit that on Aug. 18, 2022, a child under the age of 12 was interviewed in reference to nude photos taken of them, allegedly by Green. The child said on more than one occasion, Green took pictures of the child with his cell phone while they were in a truck together. The child said they also observed pictures of other young children on Green's cell phone that he claimed were from the internet.
On June 6, 2023, Frizzell received the search warrant for Green's cell phone and contacted Sallisaw Police Detective Andrew Edwards to bring Green's phone to him for a phone dump. Edwards completed the phone dump on June 8, according to the probable cause affidavit in the case.
Frizzell reportedly found multiple images of pre-puberty nude juvenile females, and/or images of adults engaging in sexual acts with the juveniles. He also found the photos of the child in the truck that the child alleged were taken by Green. The truck was confirmed as belonging to Green, according to the affidavit.
Frizzell reported seeing over 100 photographs and videos of pre-puberty nude female juveniles on the cell phone, with some being engaged in sexual acts.
Lane said Green then fled back to the Dallas area, where Texas authorities arrested him on Smith's warrant.
"Green was extradited back to Sequoyah County, but was able to bond out on that charge. He then traveled back to Texas, but meanwhile, Investigator Frizzell was executing a search warrant for Green's phone. After getting the phone downloaded, Frizzell was able to locate an abundance of child sexual materials," Lane said.
The Sheriff said Frizzell then asked for and was granted an arrest warrant for aggravated possession of child sexual materials.
"Sequoyah County Investigator BR Rutherford, who is also a U.S. Marshal task force officer, then contacted U.S. Marshals in Texas, and they were able to locate and arrest Green tonight (July 10)," Lane said.
"Green had apparently tried to get a passport but was denied because of his outstanding warrant," Lane said. "Green will now be extradited back to Sequoyah County to face both charges."
Lane said during the arrest, authorities found him in possession of a loaded firearm, numerous cell phones, a large amount of U.S. currency, silver bars, a large amount of foreign currency, among other items.
"This is a dangerous predator that has been taken off the streets. Investigators Smith and Frizzell did a great job on this case. It's apparent to me that he was planning to leave the country. Hopefully now, that poor little girl and her family can get some justice," Lane concluded.
District Attorney Jack Thorp said aggravated possession of child pornography is punishable by imprisonment for not more than life and by a fine of not more than $10,000. Thorp said if found guilty, Green would also have to register as a sex offender pursuant to the Sex Offenders Registration Act. The lewd molestation charge is punishable by imprisonment in the custody of the Department of Corrections for not less than 25 years.