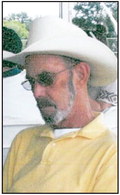 Obituaries
October 4, 2023
Harley Marvin McGee
Sallisaw – Harley Marvin McGee, 77, of Sallisaw, died on Friday, Sept. 15, 2023, in Sallisaw. He was born on May 4, 1946, in Fort Smith, Ark., to Paul Alvin McGee and Blanch Marie (Tindell) McGee.
No formal service is planned at this time. Arrangements are under the direction of Forever Memories Funeral Services.
He was a millwright for many years.
He married Patricia McGee on June 15, 1985. Survivors include his wife; son, Mike Cook; siblings, David McGee, Paul McGee, Ed McGee, Jim McGee, Earl McGee and Rick Mueller; two grandchildren; and other family members and friends.
He was preceded in death by his parents.