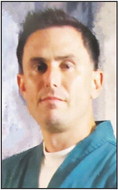 Obituaries
October 11, 2023
Garrett Darcy Wright
Sept. 19, 1982 – Sept. 29, 2023
Sallisaw – Memorial services for Garrett Darcy Wright, 41, of Sallisaw, were held at 10 a.m. on Thursday, Oct. 5, 2023, at Agent Mallory Martin Chapel in Sallisaw.
Mr. Wright was born on Sept. 19, 1982, in Anaheim, Calif., to Donna Kay Darcy and Joseph Bryan Wright. He died on Friday, Sept. 29, 2023, in Sallisaw.
He was a U.S. Army Veteran and a laborer.
Survivors are two daughters, Kaitlyn Wright and Cambre Wright, both of Sallisaw; mom, Donna Darcy and husband, Tom Forst of Sallisaw; one sister, Amanda Maier of Lacrosse, Wis.; four brothers, Tyler Kutil, Cianan Kutil, Eathan Kutil and Kenneth Darcy, all of Sallisaw; one aunt, Tracy Darcy of Sallisaw; and one uncle, Larry Darcy of Sallisaw.
He was preceded in death by two brothers, Jason Kutil and Shade Kutil ;and his grandparents, Don and Rita Darcy.
Honorary pallbearers were David Taylor, Tyler Kutil, Cianan Kutil, Eathan Kutil, Kenneth Darcy and Larry Darcy.